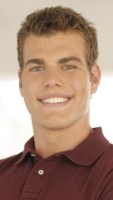 Garrett Potts


An Adventurer for Christ
The Adventure of a Lifetime:
The Passionate Pursuit of What Really Matters
Faith-Based & Corporate
Conferences
Students & Singles Events
---
---
A life-long quest for adventure has taken Garrett Potts on several exciting journeys ... and one in particular that placed him on a new path that forever changed his life.

We all face decisions every day that could change our lives forever - for better or for worse. Society paves a path and promotes ideals that are full of empty promises and fleeting satisfaction.

The highest and best that life has to offer is discovered only by blazing a personal trail of ultimate adventure - the adventure of a lifetime!

Garrett Potts is an evangelist and motivational speaker who promotes the passionate pursuit of life's most important adventure. ... All Aboard!

The Adventure of a Lifetime:

The Passionate Pursuit

of What Really Matters
---
Garrett Potts, a young man with business success beyond his years, has founded three thriving companies and made history as the youngest fraternity president in university history at The University of Georgia. In a period of only two weeks, Garrett recruited 56 men and founded The Phi Kappa Tau Fraternity - a prestigious organization which is worth 1.2 million dollars.
Garrett enjoys every opportunity to speak to corporate groups and, in particular, entrepreneurs. Audiences are fascinated by his personal story as a successful young entrepreneur. He enjoys motivating others to embrace that inexplicable feeling of adventure and success that comes with being the very best they can be within their chosen profession.
Parenting conferences and moms groups are a particular passion. Garrett speaks to mothers and fathers about the unique pressures faced by today's teens. Oftentimes, the way that parents respond to their children's missteps and their failures can have a direct effect on how that child handles the same or similar situations in the future.
With the heart of an evangelist, the experience of a successful entrepreneur, and the passion for bringing out the best in others, Garrett Potts enthusiastically encourages others in their unique adventure of a lifetime.
---