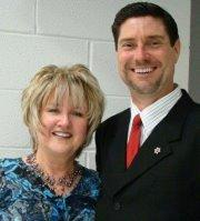 Bruce & Lynne Patterson

Messianic Praise and Worship Ministry
---
| | |
| --- | --- |
| Many Bible prophecies speak of the return of the Jewish people from all nations to their native land of Israel, and of their return to the Messiah of Israel, Jesus, or in Hebrew, 'Yeshua.' Today and in recent years, many Jewish people are discovering and believing that Yeshua haMashiach (Jesus, the Messiah) has, indeed, already come; while more and more Christians are experiencing an increasing desire to learn about the Jewish roots of their faith. | |
Believing that The Holy Spirit is bringing restoration to the Christian community by awakening in Christian hearts this timely reality, Bruce and Lynne Patterson bring to life the Hebraic roots of the Christian faith, while 'forth telling' in their scripture based songs, Old Testament Prophecies as well as New Testament prophecies which are coming to pass before our very eyes!
Romans 1:16 says that the Gospel is to be preached, "to the Jew first and then to all the nations." God has called Bruce and Lynne, through their musical expression, to proclaim the good news of all those who are "grafted into the olive tree" (Romans 11). Truly, both Jew and Gentile become "one new man/one new creation" by believing in the saving knowledge of Yeshua haMashiach.
Come and explore the richness of our Hebrew heritage through the

Messianic praise and worship music ministry of Bruce and Lynne Patterson

. Traveling aboard this ancient tapestry of their contemporary sounds, for nearly two decades Bruce and Lynne's original music has inspired a deeper understanding and appreciation for God's infallible Word, and The Land of Israel.

* * *
Bruce Patterson

is a classical guitarist, guitarist, songwriter composer and arranger. Bruce studied classical guitar at Vanderbilt University's Blair School of Music and Peabody College under famed guitarist and Chet Atkins protégé, John Johns. In addition to his classical studies, Bruce has been writing and performing Christian and Messianic music since the early eighties. Having memorized eleven books of the New Testament and many of the Psalms and Proverbs, Bruce is able to write songs that edify, inform and exhort the Body of Christ and unbeliever.
After traveling for several years with Christian/Classical ensemble' "Sabbath Rest", Bruce and his wife, Christian recording artist/songwriter Lynne Drysdale Patterson base their home and concert ministry in Nashville, Tennessee.
In Bruce's other life, he is Vice President of Energy Services with Energy Architects, a professional Engineering firm located in Maryland Farms/ Brentwood, Tennessee.
Lynne Drysdale Patterson

is a songwriter, worship leader
, recording artist, keynote speaker, conference teacher, gourmet cook, and author of

Feasts of Israel Cookbook

. Her grandfather, Hilleary Arthur Brown, headed the Philadelphia office of ASCAP (American Society of Composers, Authors and Publishers). Lynne's great-grandparents were traveling minstrels. She is president and co-owner of In His Name Music and Messiah Songs Publishing.
Lynne's songwriting credits include: The Joshua Generation recorded by Ricky Skaggs on his Grammy and Dove Award winning record Soldier of the Cross; I Am Evidence recorded by LordSong; How Much More recorded by Greater Vision on their Faces record voted 2005 Album of the Year by The Gospel Quartet Convention; Dying To Know recorded by Caray Keen (columnist Cal Thomas' daughter).
Lynne teaches songwriting, and Songwriting For Worship in 3-D from an Hebraic perspective at conferences and events across the country including: The Songwriters Guild's Nashville Office; NSAI (Nashville Songwriters Association International) SONGPOSIUM; The Kentucky Christian Writers Conference. She also offers Online Christian Song Evaluation.
Lynne is speaks, sings, and offers unique cooking presentations for women's retreats, ladies luncheons, songwriting retreats and conferences.
Lynne's television appearances include The Nashville Network, The Christian Television Network, The Christian Broadcasting Network, The Peggy Denny Show, Nite Line Christian Talk Show, and Babbie's House.
Lynne grew up in St. Petersburg, Florida, and has lived in Nashville, Tennessee since 1984. She and her husband, Bruce, base their concert, speaking, and teaching ministry in Nashville, Tennessee.
---
Speaking Topics . . .
Bruce and Lynne have been worship leaders in the Messianic music community for nearly two decades. They have written hundreds of beautiful, prophetic songs regarding praise and worship to God about the restoration of Israel and the maturing of the Body of Messiah into the perfect one new man according to Ephesians. 2, 3, 4, and 5 and John 17. Their music is played all over the world.
Should America Support Israel?
In Bruce's compelling talk, he reveals scripturally why America should support Israel. The Bible says, referring to Israel in Genesis 12:3, "I will bless those who bless you and him who dishonors you I will curse." Bruce further expounds on this scripture by explaining how God judges nations according to how they deal with Israel and the Jewish people; discusses the promises God made to Abraham (father of the Jewish people), and that His promises are still in effect today. Bruce and Lynne perform original songs.
Should the Church Support Israel?
In his scripturally based talk Bruce encourages Christians to understand the church has a biblical mandate to support Israel. John 4: 22, "Salvation is of the Jews" reminds us God chose to become a Jewish man and come to earth to save all who would receive Him - both Jew and Gentile. Bruce cites the Book of Ruth 1:16 "your people shall be my people." The Apostle Paul, speaking of the Jews says, "For if the Gentles have come to share in their spiritual blessings, they ought also to be of service to them in material blessings" (Romans 15:27). Psalmists Bruce and Lynne perform original songs.
Who Is the One New Man and
How Can We Be Part of the
Unity and Growth of the True Church?
Bruce explains how Jesus and Paul give us the keys to spiritual growth for the church and world revival found in the message of the One New Man - Jew and Gentile, one in Messiah (John 17 and the Book of Ephesians). Bruce and Lynne perform original songs during this presentation.
Jesus and The Ancient Hebrew Wedding Customs
Like turning the pages of a wedding album, this presentation provides insight into the spiritual significance of the ancient Hebrew wedding customs and how Jesus fulfills each one. From the proposal with a cup of wine, to the washing Mikavah, to the Bridal chamber and beyond, such rich imagery paints a vivid portrait of how each detail of the wedding is meticulously prepared by the bride, bridegroom, and their families. This vibrant symbolism comes to life as Jesus proposes to you, His desired Bride! Bruce and Lynne minister original music composed on Bruce's classical guitar during this presentation.
* * *
Feasting withThe Father

Did you know that our Father God, the God of Abraham, Isaac and Jacob calls us to celebrate His biblical feast days? You may be asking, "What are these biblical feasts and why should I celebrate them?" As a musician/singer and the author of

Feasts of Israel Cookbook

, Lynne incorporates music as she explains the exciting plan God has for our lives as shown through the changing of the seasons and celebrations of His biblical feasts in a New Testament context beginning with Passover. This presentation can include an optional cooking demonstration.
* * *
Passover Seders are a unique ministry that Bruce and Lynne offer in Nashville, Tennessee, and surrounding areas. The Passover Seder (seder meaning 'order' in Hebrew) makes a living connection between God's faithfulness to the Jewish people and the salvation He offers to the world through the life and ministry of Yeshua (Jesus) the Messiah.
Bruce and Lynne's
Concert Ministry
incorporates anointed singing and original music by these accomplished musicians and songwriters. The Pattersons' beautifully blended voices and Bruce's skill on acoustic and classical guitar uplift as well as inform the Body of Messiah.
Bruce and Lynne also offer Praise & Worship Workshops which address Biblical teachings about music and its purpose.
---
Testimonials . . .
The Word of God reigns supreme "A Praise on Earth" their latest cd. I especially appreciated the marriage of New and Old Testament texts in "We See Yeshua."
The High Adventure Global Broadcasting Network
Lynne is the author of Feasts of Israel Cookbook. She is a speaker, and provides cooking demonstrations incorporating foods used in God's biblical Feasts beginning with Passover. By incorporating recipes, traditions and inspirational insights, Lynne brings a fresh perspective to historically Jewish holidays, making them a celebration for today Christian celebrations. After hearing Lynne's presentation, the audience will leave with a sense of both their spiritual heritage and legacy.
Florence Littauer, Founder, CLASSeminar
Author of Personality Plus, Silver Boxes and Making the Blue Plate Special
---